Dissesti museali
Gnam!, e la nuova Galleria Nazionale si mangia l'arte moderna per far spazio al contemporaneo
La nuova direttrice ha privilegiato l'effetto scenofrafico delle opere a scapito della loro storicizzazione e contestualizzazione, perché la nouvelle vague vuole che i musei siano prodotti da vendere e non templi del sapere e della bellezza
di Riccardo Rosati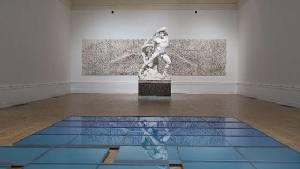 Ercole e LIca del Canova e una istallazione di un "modesto" contemporaneo, al solito i nani sulle spalle dei giganti, in questo anche stare ai piedi di un grande serve a esistere
Può sembrare alquanto sorprendente, se non persino contraddittorio, che chi sia vicino al Pensiero Tradizionale possa spendere delle parole a favore del moderno. Forse alcuni lettori avranno sentito del nuovo allestimento della Galleria Nazionale d'Arte Moderna (GNAM) di Roma, con tanto di titolo pretenzioso nella citazione shakespeariana, tratta dall'"Amleto": "Time is Out of Joint". Una rivoluzione che si rivela quale la devastazione di quello che è, ci dispiace per stranieri ed esterofili, il più importante museo di arte moderna che esista o meglio esisteva. Già, poiché oltre ai tanti artisti non-italiani presenti nella sua collezione, ci sono i NOSTRI e al meglio; dunque se non siamo certo i soli a ritenere che Canova, Boldini, Fattori, Sartorio, Balla, De Chirico, Sironi, ecc. siano stati tra i migliori in assoluto tra Ottocento e Novecento, allora il passo è breve per attestare il primato mondiale della GNAM. Anzi, ora Galleria Nazionale, come l'ha ribattezzata la neo-direttrice Cristiana Collu, in tandem col ministro Dario Franceschini. Si sa che il linguaggio è il vero centro di una cultura, tanto da fare coniare a Winston Churchill nel 1943 una acuta riflessione-epitome dello spietato animo anglosassone: "Il potere di dominare la lingua di un popolo offre guadagni di gran lunga superiori che non il togliergli province e territori o schiacciarlo con lo sfruttamento".
Il concetto che vogliamo esprimere in questo nostro articolo è il seguente: quando si ha a che fare col "contemporaneo", persino il "moderno" va difeso; protetto da quel Nulla di questo Occidente empio, accolito della Epoca Oscura (Kali Yuga), ormai giunta alla sua mortale coda. L'arte contemporanea, di questa malvagia tenebra, non è solo vassalla, ma anche potente strumento di distruzione spirituale di massa. Si è cominciato col cambiare la lingua nella politica, poi nella scuola, per arrivare pure ai nomi dei musei; il tutto nel quadro di un piano di alterazione socio-etnica che dall'America da anni si sta ripercuotendo potentemente sulla civiltà europea.
Chiusa la parentesi "tradizionalista", passiamo ora alla cronaca di questo scempio nei confronti di quella che era la GNAM. Chiariamo subito una cosa, Collu e accoliti si guardino bene dal rivolgerci il solito scherno, poiché usciamo dal belante pensiero globalista, visto e considerato che ben due membri su quattro del comitato scientifico del Museo si sono dimessi a causa di questo nuovo, folle, allestimento. Parliamo di Jolanda Nigro Covre e Claudio Zambianchi. Un terzo componente del comitato, Fabio Benzi, non si è dimesso, "limitandosi" a pubblicare sul sito di "Repubblica.it" del 19 ottobre 2016, una accorata protesta, indirizzata al ministro dei Beni Culturali, dal titolo: "Questo non è più un museo"; giusto per dire che non ci siamo svegliati un giorno con un desiderio compulsivo di parlare male delle scelte della neo-direttrice, poiché, come abbiamo evidenziato, la questione del nuovo allestimento ha creato molte, e a nostro avviso, legittime critiche.
Per quanto concerne la missiva di Benzi, costui non ci va giù leggero, stigmatizzando uno dei tanti limiti del modaiolo "Time is Out of Joint": "Le opere sono decontestualizzate dalla loro storia e dalla loro genesi. L'effetto è scenografico, ma gli stessi effetti si sarebbero potuti ottenere anche attraverso un'esposizione storica, modulata e intercalata da confronti altrettanto e più efficaci di quelli proposti dalla direttrice". In parole povere, non era necessario smantellare un intero museo, per dargli una svecchiata; ma si sa, la "Dottrina Renzi" per l'appunto questo fa, distruggere ciò che ha valore, così da annichilire mente e spirito, giustificando il tutto con il vessillifero cambiamento a ogni costo. "Cosa deve essere il Museo Nazionale d'Arte Moderna in Italia?", si chiede ancora Benzi. Egli avanza una risposta semplice, quanto condivisibile: proporre una immagine degli sviluppi dell'arte, in questo caso principalmente di quella italiana. Sfortunatamente, l'attuale allestimento è più simile a una biennale che non a un museo. Una scelta quanto mai scontata nel mondo renziano, dove tutto deve diventare "vendibile" e, quindi, reso commerciabile. Che vadano in malora il Neoclassicismo o i nostri macchiaioli, che, per inciso, nulla hanno da invidiare agli osannati, segnatamente dalla intellighenzia statunitense, impressionisti. Una piccola nota museologica, l'aver così "pompato" da parte americana questi artisti francesi ha una motivazione assai poco nobile e scientifica, visto che i musei USA hanno nel tempo acquistato in massa Renoir & Co. Ragion per cui, considerato che da Oltreoceano si è dettato da dopo la guerra il canone di tutto, lo stesso è avvenuto per l'arte. In soldoni, dato che loro hanno tanto sugli impressionisti, questi devono essere per forza i migliori. Lo stesso stratagemma applicato anni dopo nel caso di Henri Matisse (1869 – 1954), decretato il più grande pittore del Novecento  –  la verità è che questo titolo andrebbe a De Chirico e Sironi – da parte dello studioso Clement Greenberg.
Va de sé, che Franceschini se ne è altamente fregato di dare una risposta all'appello di Benzi. Più "garbata" si è rivelata invece la Collu, la quale ha dichiarato: "Ai dimissionari esprimo la mia stima, abbiamo lavorato bene insieme, ma credo che ci sia un errore di fondo: una cosa è la galleria in quanto museo, un'altra se si considera la storia dell'arte. A me piace la prossimità col pubblico, magari non ortodossa. In programma c'è il nostro tempo e questo è un allestimento e anche una mostra che ha una data di fine, nel 2018". Prepariamoci a sopportare per ancora due anni, sperando di riavere il nostro vecchio Museo, seppure farsi illusioni in tal senso è quanto mai ingenuo... la Dottrina Renzi è qui per restare!
È chiaro che gli artistoidi coperti e allineati con il dictat progresista hanno gradito il nuovo allestimento e, ovviamente, un plauso non poteva che venire dall'ambiente anglosassone, che intende imporre il dogma della globalizzazione al pianeta intero, senza però chiedere prima il permesso a Mosca e Pechino. Ecco, allora, che entusiasti del Museo si sono rivelati la coppia Gilbert & George, regalandosi un bel selfie davanti all'"Ercole e Lica" (1795 – 1815) di Antonio Canova, cinguettando un: "congratulations", messo nero su bianco sul libro delle presenze.
Ci interroghiamo sul perché il comitato scientifico del Museo non sia stato interpellato. "Svecchiare" è la risposta, a partire dalla conoscenza, dunque accantonare chi ha studiato, tipi noiosi questi per Renzi e amici. La Direttrice, nella riunione tenuta il 14 settembre, ha ribadito perentoriamente di essere la sola responsabile di ogni decisione, potendo tranquillamente ignorare qualsiasi parere "tecnico". Beh, non c'è che dire!
Sempre sul sito di "Repubblica", il 20 ottobre, Arianna Di Cori firma un articolo nel quale ha raccolto le opinioni di alcuni dei visitatori del Museo, tra questi, Paola Torniai, docente di storia dell'arte in un liceo, la quale fortunatamente tuona contro la nuova visione della Collu: "Per me è un allestimento pessimo, come si può pensare che le scolaresche comprendano tutto questo?". Sante parole, "italiche" oseremmo dire, a cui si oppone il Pensiero Unico di matrice anglosassone, incarnato dalla sciocca riflessione di Paul Toner, gallerista newyorkese: "Sembra di essere alla Tate o al Guggenheim, finalmente qui i giovani potranno abituarsi alla bellezza". E no caro amico americano, noi non ci teniamo proprio a essere come Londra o la Grande Mela, giacché Roma è Roma e, se permette, è tutta un'altra storia.
Purtroppo, per tanti, troppi la commistione tra moderno e contemporaneo è positiva, ignorando il fatto che se il primo qualche elemento culturale ha pur sempre introdotto nella società occidentale e, in modo contrastante, pure in quella orientale; il secondo è assolutamente privo di qualsivoglia qualità. Il nuovo allestimento in chiave contemporanea della Galleria ha sostanzialmente "ucciso" il suo essere un tempio laico del meglio dell'arte moderna, italiana ed estera. Se tale delitto intellettuale lo si possa giustificare semplicemente con l'intento di rendere il tutto "meno noioso", allora siamo davvero giunti alla imposizione di un modello di vita alla insegna dello istupidimento collettivo, ironicamente rappresentato dalla pellicola: "Idiocracy" (2006) di Mike Judge, non a caso un regista di origine americana, quindi con una visione di prima mano di quella che è la massima tracimazione della globalizzazione nelle vite delle persone.
Andiamo a vedere nel dettaglio alcune delle nefaste innovazioni della ditta Collu-Franceschini. Sostanzialmente, possiamo dire che la GNAM sia stata svuotata. Smembrata, ad esempio, la sezione dedicata ai futuristi; umiliata quella sulla Scuola Romana, relegata in alcuni angoli del percorso espositivo. Naturalmente, si è colta la balla al balzo per far sparire la tela di Julius Evola: "Paesaggio interiore ore 10.30" (1918). In verità, ben pochi sanno che il grande filosofo della Tradizione, nonché una delle massime menti del XX secolo, è stato altresì uno dei principali esponenti del movimento dadaista europeo. Ciononostante, è nella sala dell'"Ercole e Lica" di Canova che si è raggiunto l'apice dell'assurdo, una vera eresia artistica. Il celeberrimo gruppo scultoreo, che un tempo era al centro di una suggestiva doppia teoria di statue neoclassiche e circondato dai capolavori del preraffaellita italiano Giulio Aristide Sartorio, oggi si specchia in un "mare" di vetro posto sul pavimento, un lavoro di Pino Pascali. Il resto di quella che era quasi certamente la più bella sala di un museo d'arte moderna al mondo è essenzialmente una squallida sequenza di pareti bianche, giacché i musei di arte contemporanea tendono tutti a somigliarsi per spazi asettici e vuoti.
Il risultato ottenuto dalla nuova GNAM è nella impossibilità di entrare in empatia con le opere. La gente perlopiù chiacchiera e non guarda ciò che è esposto. Non poteva chiaramente mancare una autentica "invasione" della fotografia: quasi un terzo dei pezzi in mostra è composto da immagini fotografiche, che poi nella stragrande maggioranza dei casi non sono nemmeno parte della collezione permanente del Museo, essendo prestiti da galleria private; siamo alla follia, al delirio di onnipotenza dei progressisti. Del resto, l'attuale allestimento obbedisce al principio per cui l'arte è sempre e obbligatoriamente contemporanea. La forma, il Bello, la storia devono essere spazzati via senza il minimo riguardo, né pentimento.
Tirando le avvilenti conclusioni su questo novello "delirio museografico", possiamo dire che il tutto si contraddistingue per una gran confusione, non solo da un punto di vista squisitamente scientifico, ma persino tra lo stesso pubblico, in quei visitatori che ingenuamente si auguravano di apprendere qualcosa con la visita a questo museo. Passeggiando nella nuova GNAM della Collu abbiamo percepito una atmosfera da outlet, con la dissacrazione dell'Arte. Ciò ha generato in noi tanta rabbia, la quale si è poi disciolta in vera tristezza, ascoltando i commenti di persone che girovagavano per gli ampi spazi della Galleria, chiedendosi: "Qui ci siamo stati?" o "Tu le hai viste le mucche?". C'è bisogno dell'orrido contemporaneo, per accorgersi che, malgrado i numerosi limiti, il moderno qualche merito lo ha avuto, e anche qui si è provveduto, non appena ve ne è stata la possibilità, a cancellare la cultura, la memoria.