L'altra metà del genio
Freda Kelly la ragazza che gestì la fama dei Beatles
Cominciò ad occuparsi del fan club del quartetto quando arrivavano poche lettere la settimana, poi divennero famosi e ... Fedelissima al gruppo e ai fan esaudiva ogni richiesta le fosse possibile e non svelò mai i segreti dei musicisti
di Francesca Allegri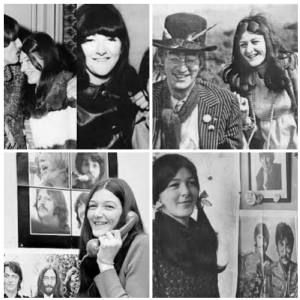 Difficile spiegare esattamente che cosa sia un classico, forse una delle migliori definizioni è la seguente: classica è un'opera che, mentre rappresenta la sua epoca, contemporaneamente diviene valida per gli uomini di qualsiasi tempo.  In questa prospettiva, forse, potremmo considerare i Beatles come dei veri e propri classici.
Nulla meglio della loro musica descrive la swinging London degli anni '60, ma le loro canzoni piacciono a tutti anche a cinquanta anni di distanza. Dietro ai quattro di Liverpool, come al solito, una donna. Non una delle modelle raffinate o delle pseudo filosofe, tutte sesso, droga e rock and roll,  che ebbero come mogli o amanti, ma una ragazza del tutto comune, che per molti anni li accompagnò nell'ombra.  Li aveva sentiti suonare una sera che, a diciassette anni, si era recata al Cavern, il locale nel quale si esibivano agli esordi, con giacche di pelle come quelli che all'epoca si chiamavano teddy boys, e subito era rimasta folgorata dalla loro musica.
Lei stessa racconta che era un locale oscuro, quasi una cantina, come del resto indica il nome: claustrofobico e con una scarsissima ventilazione, pieno di fumo, rimase subito colpita  dalla bravura e soprattutto dalla capacità di dialogo e di empatia con il pubblico del quartetto.
Si chiamava, e si chiama, Freda Kelly, una ragazza della media borghesia; era rimasta presto orfana di madre e viveva con il padre, ovviamente a Liverpool, aveva studiato alle commerciali e faceva la segretaria. Fu questo lavoro, all'apparenza così banale, ma in realtà tanto difficile, che le permise di vivere anni favolosi, per i quali ogni ragazza dell'epoca avrebbe dato dieci anni di vita. Fin dal primo incontro cominciò a lavorare al loro piccolissimo fan club, allora tenuto da un'altra ragazza Bobbie Brown, che poco dopo si fidanzò e perse interesse alla cosa, il fan club rimase tutto nelle sue mani.
 All'inizio era un passatempo da poco, scrivevano scarsissimi ammiratori e Freda ebbe l'ingenuità di dare il proprio indirizzo di casa, ma, come è noto, le cose cambiarono velocemente e il successo del gruppo fu esplosivo. I portalettere cominciarono a depositare nella sua cassetta decine di lettere che ben presto divennero centinaia e poi migliaia, sacchi e sacchi venivano lasciati davanti alla sua porta; ormai il padre, con il quale viveva,  piuttosto infuriato per la verità, non riusciva nemmeno più a trovare le sue bollette. Si andò avanti così per un po', fino a quando Brian Epstein, lo sfortunato manager del Beatles, le offrì di trasferirsi in un piccolo ufficio all'interno del palazzo che ospitava il negozio di strumenti musicali della sua famiglia.
Quello che era cominciato come un gioco divenne un vero e proprio lavoro, anche molto faticoso, che Freda continuò da Liverpool, anche quando il quartetto si trasferì a Londra. Suo padre non le permise di trasferirsi a sua volta e la ragazza si incontrava nella capitale con il gruppo solo alcune volte la settimana. Freda rispondeva a tutti i fans ed esaudiva anche le richieste più assurde e sconsiderate, come quella di una ragazza che inviò una federa di guanciale perché vi dormisse una volta Ringo. Precisa ed estremamente corretta si rifiutava di ricorrere a sotterfugi di qualunque genere, le firme erano quelle vere e mai le sostituì con dei timbri come le aveva suggerito Epstein.
Spesso, la sera tardi, si recava a casa di uno dei componenti del gruppo e lo pregava, mentre si stava rilassando magari davanti alla televisione, di firmarle le lettere da spedire alle fans il giorno seguente. Ma la sua correttezza si spingeva molto al di là dell'onestà nei confronti delle ammiratrici. Mai Freda ebbe a raccontare a nessuno i segreti più intimi dei componenti del quartetto; tutte le loro confidenze, e ne deve aver ricevute molte, confidenze che avrebbero potuto fruttarle milioni se vendute ai giornali scandalistici, sono rimaste sepolte nella sua memoria: un assoluto, encomiabile riserbo.
Eppure visse fianco a fianco con gli uomini, forse, più celebri di quel tempo. La vediamo in foto antiche in bianco e nero ed è la copia delle ragazze degli anni sessanta; abitino a sacco in tinta unita a scoprire le gambe, capelli lunghi, lisci con la scriminatura nel mezzo dall'aria un po' selvaggia e un viso non bello, ma sorridente e aperto, forse in qualche scatto leggermente imbarazzato. Spesso insieme a lei uno o l'altro dei componenti del gruppo: Freda sorridente fra Ringo e George in un abitino  bianco cortissimo, come usavano all'epoca; Freda con John che indossa un buffo cappello con le piume, Freda che tiene familiarmente il braccio sulle spalle di Paul. Freda con i codini e i fiocchetti nei capelli, un po' come una figlia dei fiori, una hippy, ma con un'irrimediabile aria da brava ragazza.
E Freda era amica non solo  dei componenti del complesso, ma anche dei loro parenti. Per anni si recò spessissimo a casa della madre di Ringo Starr, Elsie, semplicemente a farle compagnia, Freda stessa confessa che forse Elsie vedeva in lei la figlia che non aveva mai avuto e d'altra parte lei, che era rimasta orfana a soli diciotto mesi, la considerava quasi come una madre. Furono anni eccitanti, in cui tutto pareva possibile, del resto lo furono per tutti i giovani di quella generazione: non c'erano guerre in Europa, il mondo era stato ricostruito e, almeno al di qua della cortina di ferro, si stava bene con un benessere era sempre maggiore, i giovani potevano studiare e le ragazze in particolare godevano di una libertà che mai avevano conosciuto prima; da una posizione di sicurezza, che sembrava ormai acquisita per sempre, pareva bello anche contestare il modo di vita conformista dei genitori in molti modi, non ultimo con la musica.
Poi sarebbero venuti gli anni bui, gli anni di piombo e, non solo in Italia, un velo cupo si sarebbe  posato su tutto e si sarebbe compreso che il mondo non si lascia  cambiare tanto facilmente. Sarà proprio agli inizi di quegli anni bui che i Beatles, come era giusto, si sarebbero divisi, forse non solo per loro volontà, ma anche perché quel mondo e quell'epoca, che avevano cantata, stava scomparendo e anche la loro arte doveva, per forza, o cambiare o morire. 
E Freda? Freda allo scioglimento del gruppo, rimase ancora due o tre anni a fronteggiare gli ultimi fans con le loro richieste e i loro rimpianti; infine chiuse il fan club e pubblicò sull'ultimo numero della rivista  The Beatles book la richiesta che non fosse inviata più alcuna lettera. E ritornò alla sua vita normale; si sposò, ebbe due figli, il grande dolore di perderne uno, continuando a lavorare come segretaria. Adesso racconta la sua storia in un documentario, lei dice per far conoscere quei giorni al suo nipotino. Prima di rispondere alle domande del regista, però, ha chiesto il consenso ai due Beatles rimasti e ai parenti degli altri due e mai, nemmeno adesso, però,  ha tradito  i suoi ricordi, mai è scaduta nel pettegolezzo; sempre segretaria di nome e di fatto, quella donna comune, dalla vita così eccezionale, che è Freda Kelly.