L'atra metà del genio
Alma Reville, che fu editor e sceneggiatrice dei film di Hitchcock oltre che sua madre di sua figlia
Cole il celebre regista fece anche qualche apparizione fugace in alcuni film tenne sempre un profilo bassissimo, sopportò i folli innamoramenti (platonici) del marito ma vissero insieme tutta la vita
di Francesca Allegri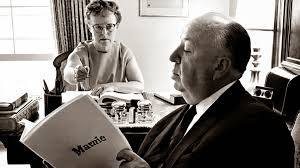 Alma Reville e Alfred Hitchcock
Io confesso è un film del 1953, nel quale il regista pone una domanda fondamentale che tutti i cattolici prima o poi si sono fatti: può un sacerdote rivelare il contenuto di una confessione? Naturalmente la risposta è negativa.
Un eccellente Montgomery Clift interpreta la parte di un prete che viene accusato di omicidio; conosce, appunto in confessione, il vero colpevole che è il suo sacrestano, ma non può rivelare quello che ha saputo, nemmeno per salvarsi dalla pena di morte. Un ruolo secondario, ma determinate, è svolto dalla moglie del sacrestano omicida; Alma, così si chiama la donna, sa che il marito è il vero colpevole e sarà proprio lei, dopo una angosciante lotta interiore, a rivelare la verità.
Alma è il nome del personaggio, marginale ma decisivo; così come Alma era il nome di uno degli sceneggiatori: Alma Reville Hitchcock, l'unica moglie che, pur nel rutilante mondo dello spettacolo hollywoodiano dove i matrimoni si sfasciavano a ripetizione, fu accanto al regista per tutta la sua vita. Viene fatto di pensare che il personaggio del film e la Reville abbiano molto in comune: ambedue vivono di luce riflessa, ambedue conoscono profondamente anche i segreti più inconfessabili dei propri uomini, ambedue hanno un ruolo decisivo nella loro vita e ne rappresentano, in qualche modo, la voce forte della coscienza.
Una bonaria ironia poi in Frenzy: la moglie dell'investigatore, anche questa una figura del tutto marginale, frequenta un corso di cucina e presenta continuamente al marito improbabili manicaretti dai nomi impronunciabili, mentre questi non desidererebbe altro che una buona e semplice bistecca. Ruoli marginali certo, ma non dobbiamo dimenticare che il regista riservava a se stesso un ruolo ancora più marginale come comparsa che ritroviamo sempre e solamente in un'unica scena di ogni film. Un'altra figura femminile che adombra, in qualche modo, la vera figura di Alma la moglie, interpretata da Ann Todd, in Il caso Paradine. Gay Keane comprende che il marito, l'avvocato Anthony Keane, si sta perdutamente e rovinosamente innamorando della fascinosa e misteriosa Anna Maddalena Paradine accusata di aver assassinato il marito e poi rea confessa. Non possiamo non pensare a quanto questa figura somigli alla moglie stessa di Hitchcock che dovette sopportare i furiosi, e del resto puramente platonici, innamoramenti del marito nei confronti di alcune delle più seducenti dive dell'epoca che recitarono nei suoi film. Alma Reville non poteva certo competere con loro: fulgide bellezze, bionde, eleganti, raffinate, amate e osannate di qua e di là dall'Oceano. Lei non era certo così. I ritratti ce la presentano come una donna piccola, magra, nemmeno troppo elegante, ma sempre sorridente e sempre un passo dietro al marito così imponente, anche fisicamente. Eppure non doveva certo mancare di personalità.
Era nata nel 1899 a Nottingham in Inghilterra, ad un solo giorno di distanza da quello che sarebbe poi divenuto suo marito, da una famiglia piuttosto umile: il padre lavorava in una fabbrica di merletti, poi quando la famiglia si trasferì a Londra il padre si impiegò presso la Twickenham Film Studios, una delle prime e più importanti case di produzione inglesi. La ragazza andava spesso ad aiutare il padre finché a sedici anni vi si impiegò stabilmente. Iniziò così la sua carriera di montatrice, sceneggiatrice e assistente alla regia: una carriera piuttosto particolare perché pochissime erano le donne che lavoravano in quel ramo. Le donne nel cinema all'epoca erano per lo più attrici. Non risulta che Alma abbia mai aspirato concretamente alla carriera di diva, anche se recitò, se pure solo come comparsa, nel film The lodger: A story of London fog, uno dei successi inglesi del marito prima del trasferimento ad Hollywood; del resto il suo fisico minuto, certo non sgradevole, ma tutt'altro che esplosivo non era adatto né ad una diva del muto né, più tardi, al cinema americano.
Lavorava già da qualche anno e aveva cambiato casa di produzione passando alla Famous Players-Lasky, quella che sarebbe diventata la Paramaunt Pictures, quando si trovò a collaborare con un giovane aiuto regista nel film Woman to woman, in italiano Donna contro donna, diretto da Graham Cutts in Inghilterra uno dei più prolifici e famosi registi dell'epoca. Non era stato un colpo di fulmine, i due si conoscevano da diverso tempo senza che fra di loro si fosse istaurata una qualche relazione significativa, finché a Hitc, così amava farsi chiamare, la richiese espressamente, cominciarono così una collaborazione che continuerà per tutta la loro vita. La collaborazione ben presto divenne qualcosa di più e i due decisero di sposarsi nel 1926, il 2 di dicembre. Alfred era cattolico e Alma si convertì prima del matrimonio, probabilmente la loro unione resistette per tanti anni anche per le convinzioni religiose dei due.
Sul loro matrimonio molto si è elucubrato, alcuni lo definiscono asessuato, anche se ebbero una figlia, Pat che più tardi studierà recitazione e comparirà sia in alcuni film del padre e di altri sia nella famosa serie televisiva Alfred Hitchcock presenta. Altri affermano che Alfred era un marito dispotico e tirannico, che la disprezzava e volutamente ne tarpò le aspirazioni e le capacità, altri ancora, al contrario, sostengono che, pur cercando sempre la ribalta e lasciando la moglie nell'ombra, tenne in altissima considerazione il suo parere e le sue capacità e che del resto Alma era assolutamente soddisfatta di questo ruolo da eminenza grigia; non sarebbe, infatti, il primo ed unico caso di una moglie che per scelta personale preferisce muovere i fili della relazione e delle scelte lavorative del marito dietro le quinte, piuttosto che apparire come una prima donna.
Certo è che la troupe dei film di Hitch riteneva unanimemente che il miglior complimento del regista fosse la dichiarazione che Alma era entusiasta del lavoro. Entrare nell'intimità di due persone è sempre difficile e assai rischioso perché i rapporti a due sono regolati spesso da patti non scritti, ma accettati e mai trasgrediti, come leggi indiscutibili, e molto arduo anche stabilire in una coppia consolidata da cinquantasei anni di matrimonio chi sia stato la vittima e chi il carnefice. Restando ai fatti, senza tentare ipotesi che per forza di cose sono fantasiose, Alma ebbe la possibilità, attraverso il genio del marito, di vivere un'esperienza lavorativa delle più gratificanti in quello che, all'epoca, era il cuore della produzione cinematografica, Hollywood, di partecipare seppure in secondo piano alla creazione di film che, come veri capolavori, resteranno per sempre nella storia; di conoscere un mondo assai lontano, e forse assai più affascinante, anche nella sua durezza, da quello dei suoi esordi londinesi, oltre che ovviamente di raggiungere un tenore di vita che difficilmente la coppia avrebbe potuto sostenere in Inghilterra, pare, per esempio, che spendessero vere e proprie fortune per acquistare delicatezze culinarie, soprattutto francesi. Tutte queste possibilità, allettanti per la donna intelligente e capace che era, le si offrirono, sicuramente per i suoi personali meriti, ma certo soprattutto per aver sposato uno dei registi più acclamati dell'intera storia del cinema. Con l'ironia che lo contraddistingueva Hitchcock era solito raccontare l'occasione in cui le aveva chiesto di sposarlo; si trovavano in battello al ritorno da un viaggio in Germania dove avevano compiuto una ricognizione per le riprese del film muto The prude's fall, Il peccato della puritana, lui le chiede la mano e lei si mette a vomitare; Alfred diceva di averlo preso per un sì senza mai aver voluto appurare se la ragazza fosse sconvolta dalla richiesta o dal mal di mare.
E al di là di ogni illazione l'unica cosa che resta da fare è prestar fede a quanto lo stesso Hitchcock ebbe a dire in un discorso ufficiale, pubblicamente al ricevimento di un premio, altro non si può aggiungere: Chiedo di menzionare per nome le sole quattro persone che mi abbiano dato affetto, apprezzamento, incoraggiamento e collaborazione costante. La prima di queste è un editor di film, la seconda è uno sceneggiatore, , la terza è la madre di mia figlia Pat, e la quarta è la migliore cuoca che abbia fatto miracoli in cucina. Il loro nome è Alma Reville.