Calunnie e doppiopetto blu
Il grande affetto di Elizabeth e Steven per Peter
L'invidia dei parassiti umani, sovente, è una derivazione genetica della cattiveria (Capitolo 12)
di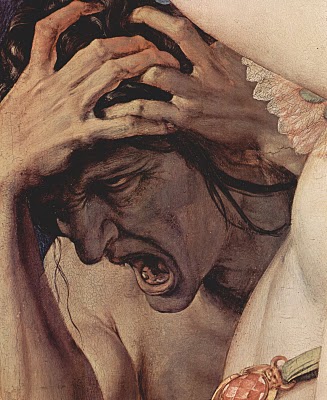 Steven, alla vista di Peter
"La cattiveria umana, che è grande, si compone in gran parte di invidie e paura". Andrè Maurois
I successi raggiunti da Peter Cummings, all'inizio, avevano conquistato anche Elizabeth e Steven, ma solo all'inizio, quando grazie ad essi i due avevano goduto di sostanziosi incentivi economici.
In seguito le cose erano cambiate. I giovani Mortimer avevano cominciato a mostrarsi sempre più torvi e cupi nei confronti di Peter, quasi la sua presenza iniziasse ad infastidirli. Sicuramente soffrivano la figura ingombrante di questo dipendente che giorno dimostrava l'importanza della sua preparazione professionale.
Questo sentimento che andava maturandosi, e al quale Cummings non dava alcuna importanza pensando si trattasse di variabilità degli umori, in realtà diventava sempre più evidente negli atteggiamenti della coppia, tanto che un "propagandista" della società, un pomeriggio, aveva preso in disparte Peter, e in nome del lungo legame dato dalla comune frequentazioni del Cricket Windsor Club di Manhattan, gli aveva chiesto se non si fosse accorto del comportamento di Elizabeth e Tick e soprattutto di ciò che essi gli dicevano alle spalle.
Hector, così si chiamava il propagandista, gli aveva raccontato come essi riunissero molti dei loro sottoposti per sparlare di Cummings sottolineando, questa era la partenza di ogni "comizio", che tutti i giorni cambiava vestito, non aveva mai la stessa cravatta, guardava tutti dall'alto al basso, si sentiva il padrone e non un semplice stipendiato dalla Roughoaks.
– Ma dove li troverà tutti quei dollari che gli permettono quello stile di vita; ma la macchina? E il figlio, avete visto come veste il figlio e che scuola frequenta? Mah!, quanto è strano tutto questo, avrà vinto ad una lotteria!–
L'invidia dei parassiti umani, sovente, è una derivazione genetica della cattiveria, del malanimo per non riuscire dove un altro emerge, la meschinità di inveire contro costui, di insidiarlo almeno con parole astiose e, il più delle volte, se non sempre, false e tendenziose.
D'altra parte si sa: "L'invidia del cretino per l'uomo brillante trova sempre qualche consolazione nell'idea che l'uomo brillante farà una brutta fine" come scrisse argutamente Beerbhom. Così, colui che invidia, altro non spera che in una fine ingloriosa dell' invidiato, sia essa morale o fisica, l'importante è che vi sia una caduta che metta pace alla sua anima rancorosa. Il bilioso sa bene, però, che non potrà mai avverarsi questa condizione perché eliminato l'invidiato di turno, seguirà un'altra vittima sacrificale da immolare al sacro altare della gelosia e della cattiveria; sì, perché, molto spesso chi è invidioso è anche soprattutto cattivo, e come un subdolo agente patogeno perlustrerà i più disparati luoghi ove trovare qualcuno da infettare col suo mortale virus. L' invidioso stesso si sente morire non una, ma cento volte quando vede l'invidiato vivere circondato dalla lode altrui.
Elizabeth e Tick in the skin avevano intrapreso questa non nobile strada, fare la guerra sotterranea a Peter inventando su di lui, meglio dire dietro di lui, calunnie e infamie di ogni genere.
In particolare odiavano il rapporto fra Mr. Roughoaks e Cummings a tal punto da ripetere, anche al momento delle riunioni, che Peter altri non era che uno sfruttatore del povero Mr. David Harold, vecchio quanto bastava per farsi influenzare dal suo braccio destro in maniera totale e qualche volta imbarazzante.
Tutto ciò derivava evidentemente dal loro non trascurabile complesso d'inferiorità. Insomma, i due si sentivano psicologicamente sottomessi dai successi di Cummings al punto da concepire nei suoi confronti un odio sempre più forte, invece della gratitudine e della riconoscenza per il suo lavoro che portava benessere a tutta l'azienda.
Esternare una qualsiasi parvenza di riconoscenza verso di lui era come ammettere l'importanza della sua presenza in seno alla compagnia; lo si esaltava solo di fronte al grande capo perché questi così voleva, ma lo si detestava appena soli.
Non riuscivano, in nessun modo, ad accettare di dipendere da Peter, se ne vergognavano, quasi fosse un'onta insopportabile. Chi era costui che nel tempo di un battito d'ali aveva conquistato così in profondità un uomo ruvido come Mr. Roughoaks?
Loro che in tutti quegli anni si erano dimostrati solo mediocri impiegati al servizio di un despota (così lo consideravano) che non gli permetteva di assumere il ruolo che avrebbero voluto all' interno dell'azienda.
Una volta, era addirittura accaduto che Peter Cummings avesse presentato alla Roughoaks un importante cliente europeo che aveva voluto assegnare al portafoglio clienti di Steven. Il quale, invece di esserne contento, si era dimostrato quasi seccato, infastidito da questo inaspettato e non richiesto regalo.
Si era sentito, fin da subito, annientato da un profondo senso di soffocante umiliazione inflittagli da Peter, avvertendo il pungente dolore di un' autostima ancora una volta calpestata. Gli stessi sentimenti aveva provato Elizabeth; suo padre e la compagnia avevano bisogno di Cummings e loro non sopportavano quest' amara realtà.
Vivevano il disagio di quella cessione come se Peter lo avesse fatto per compassione nei loro confronti. Questo dipendere, da lui, proprio non era nella loro natura e sicuramente si sarebbero comportati così con chiunque altro avesse tentato di invadere il proprio territorio.
Tick in the skin aveva raggiunto comportamenti molto vicini alla paranoia, confidando frequentemente alla moglie che lo sgradito rivale non perdeva occasione per umiliarlo davanti a tutti dimostrando la sua incapacità. L'unico mezzo di difesa, del mediocre Steven, era divenuta l'infamia, il fine era pescare nel torbido per mettere in cattiva luce Cummings con qualsiasi offesa o bassezza e infangarlo agli occhi di Mr. Roughoaks.
Questa fissazione raggiunse picchi altissimi allorquando convinse la moglie ad assumere un attempato detective, un certo Andrew Bellamora, ancora in attività presso la stazione di polizia aeroportuale sul fiume Hudson, per indagare sull'inviso Peter.