Maggio Musicale Fiorentino
PIPISTRELLO: prima con sorpresa. Il capolavoro di Strauss jr arriva sulle scene fiorentine.
Solo alla prima di domani il grande pianista Rudolpf Buchbinder si esibirà in un cameo. Repliche il 18, 20, 21 e 23 gennaio.
di Domenico Del Nero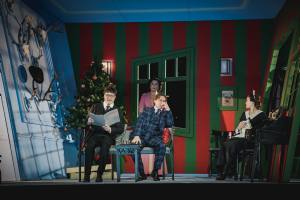 Offenbach, Strauss, Suppè, Lehar … sono solo operette? Senza affrontare la spinosissima questione dei generi e dei rispettivi confini e ibridazioni, limitiamoci a dire che questi compositori hanno saputo perfettamente tramandarci un raggio di quella gioia di vivere, di quello spirito tutto particolare che pervade la Parigi del Secondo Impero e soprattutto la Vienna del lungo crepuscolo asburgico. La Vienna imperiale non era certo solo valzer e concerti, ma è questa l'immagine che di più rimane nell'immaginario e contribuisce a farci provare un pizzico di rimpianto e nostalgia per una stagione unica e purtroppo irripetibile della nostra vecchia Europa.
E ora un bagliore di quel luminoso tramonto giunge finalmente anche in riva d'Arno; domenica 16 gennaio nella sala grande del Teatro del Maggio Musicale Fiorentino alle ore 20 prima recita delle cinque in cartellone per Die Fledermaus, ossia "Il Pipistrello", le cui musiche sono del "re del valzer" Johan Strauss jr. (altre quattro le recite previste: 18, 20 e 21 gennaio ore 20 e il 23 gennaio alle ore 15:30) . Sul podio della sala grande un maestro che a Vienna si è formato ed è legatissimo sia a Firenze che alla capitale dell'ex impero: Zubin Mehta, direttore emerito del teatro del Maggio, alla guida dell'orchestra e del coro del teatro, preparato da Lorenzo Fratini.  Insieme al celebre direttore un cast di grande interesse: Markus Werba nel ruolo di Gabriel von Eisentstein, Olga Bezsmertna come Rosalinde, Alex Tsilogiannis come Alfred, Regula Mühlemann come Adele mentre Reinhard Mayr è Frank. La regia è affidata a Josef Ernst Köpplinger, al suo debutto al Teatro del Maggio, le scene sono di Rainer Sinell mentre costumi e luci sono curati rispettivamente da Alfred Mayerhofer e Valerio Tiberi. La coreografia è affidata a Karl Alfred Schreiner; il filmato dell'Ouverture è di Meike Eber & Raphael Kurig, la drammaturgia è di Fedora Wesseler. Al Maggio il Pipistrello è stato messo in scena solo nel 2015, sebbene insieme alla Vedova Allegra sia l'operetta più rappresentata al mondo.  Gli atti sarebbero tre, ma al Maggio il lavoro viene presentato in due parti.
Nato nel 1825, Johan Strauss jr si era fino ai primi anni settanta cimentato soprattutto nel valzer. Il suo debutto (1844) non fu facile, anche perché dovette confrontarsi con il padre Johan Strauss sr, oggi ricordato quasi esclusivamente per la celeberrima marcia di Radetzky, ma all'epoca compositore popolarissimo, che aveva saputo innalzare il valzer (danza di origine contadina) sino ai livelli più alti della società viennese e diffondendolo in tutta Europa, sia come musica da ballo che da concerto. Ma negli anni settanta Strauss padre, che non aveva inizialmente affatto gradito la … concorrenza familiare, era scomparso da tempo e Johan, grazie anche alla collaborazione dei due fratelli, aveva ereditato il …. Trono paterno di re del valzer.  Ma per il debutto in campo teatrale bisognerà aspettare il 1871, sebbene il suo amico – rivale Jacques Offenbach già in occasione del loro incontro viennese nel 1864, avesse cercato di spingerlo in questa direzione.
Per quando riguarda il Pipistrello, primo e assoluto capolavoro teatrale di Strauss, il soggetto venne proprio dalla Francia.  Henri Meilhac (1831-1897) e Ludovic Halévy (1834-1908),  librettisti di Offenbach (ma autori del libretto di quel prodigioso capolavoro che è Carmen) avevano scritto una commedia di grande successo che era  Le Réveillon, che Carl Haffner e Richard Genée trasformarono nel Pipistrello, adattandolo al gusto del pubblico viennese.  Strauss si entusiasmò del soggetto e compose l'opera, a quanto pare, in poco più di 40 giorni. Lo spettacolo andò in scena per la prima volta al Theater An der Wien il 5 aprile 1874 con esito trionfale. 
Umorismo, eleganza, parodia dell'opera seria, leggerezza e naturalmente danza; il lavoro di Strauss gareggia davvero con i capolavori dell'amico – rivale Offenbach quanto a campionario dello spirito e della gaiezza in musica.  Alcuni passaggi poi risentono della musica popolare viennese e non solo (ad es. la polka nel finale del secondo atto); il tutto unito a vocalità funamboliche con tessiture ardite e spericolati virtuosismi, accompagnamenti scanzonati e ritmi funambolici. Una "leggerezza" insomma che è forse la caratteristica più preziosa, ma anche più difficile da preservare.
L'allestimento fiorentino del Pipistrello è n coproduzione con lo Staatstheater am Gärtnerplatz di Monaco di Baviera; poiché questo lavoro presenta appunto difficoltà vocali insolite per un'operetta, per l'edizione del Maggio è stato chiamato un cast di grande esperienza.  Markus Werba è Gabriel von Eisentstein: dotato di un ampio repertorio che spazia da Donizetti a Wagner il baritono austriaco, da tempo presenza stabile nei cartelloni dei più prestigiosi teatri del mondo, è inoltre uno dei più apprezzati interpreti mozartiani degli ultimi anni. Olga Bezsmertna è Rosalinde: diplomata presso il Conservatorio di Kiev nel 2010, il soprano ucraino ha legato il suo nome alla prestigiosa Wiener Staatsoper, dove nel corso degli ultimi anni ha potuto mettere in mostra il suo vasto repertorio, che abbraccia ruoli di vari compositori, da Mozart fino a Verdi.  Parlando del suo personaggio la Bezsmertna, che con questa nuova produzione debutta sulle scene del Teatro del Maggio, si è soffermata sui tratti che caratterizzano la sua parte: "Il personaggio di Rosalinde è forse il mio preferito; è stato il primo ruolo in assoluto che ho ricevuto, adesso essere qui a Firenze e cantare nuovamente come Rosalinde mi rende davvero felice ed emozionata. Amo cantare questa parte perché Rosalinde è piuttosto simpatica, intelligente e, senza alcun dubbio, bugiarda, come tutti gli altri personaggi che mentono in questa bellissima operetta."
 Alex Tsilogiannis è Alfred: il tenore greco si è diplomato presso la Guildhall School of Music and Drama di Londra e nel corso della sua carriera ha sviluppato un ampio repertorio che lo ha visto esibirsi più volte in ruoli verdiani e pucciniani. Per Tsilogiannis questa nuova produzione segnerà un doppio debutto sia nel ruolo di Alfred, essendo alla sua prima interpretazione in Die Fledermaus, sia sul palcoscenico del Teatro del Maggio.
 Regula Mühlemann veste i panni di Adele: il giovane ma affermato soprano elvetico aveva già collaborato con il Maggio in occasione dell'80º Festival, nel corso di un ciclo di quattro concerti liederistici svolti al Teatro Goldoni. Reinhard Mayr è invece Frank; il basso austriaco ha un repertorio che spazia dai lieder di Franz Schubert fino a Rossini. Completano il cast Marina Viotti nel ruolo di Orlofsky e Liviu Holender nel ruolo di Falke, entrambi al loro debutto sulle scene del Maggio; Francesco Grifoni è Ivan, Daniel Prohaska è Blind, Valentina Stadler è Ida mentre Robert Meyer e Michael Dangl si alterneranno nel doppio ruolo di Frosch/Voce recitante.
"È davvero divertente debuttare qui a Firenze, in questo splendido teatro – dichiara il regista Josef Ernst Köpplinger  -  Die Fledermaus è un'operetta tipicamente austriaca dove chiunque, all'interno dello spettacolo, è un bugiardo. La storia è basata su una commedia francese molto divertente ma, dietro a essa, si cela una storia 'cattiva': alla fine tutto va per il verso giusto. Forse. O forse no." Proseguendo nella sua analisi, Köpplinger ha sottolineato come sia stato fondamentale il lavoro d'insieme svolto sia dagli artisti che dai tecnici: "L'operetta per un regista è sempre più articolata da mettere in scena rispetto ad un'opera classica: è un insieme fra le due cose, un dramma e un'opera uniti insieme. Anche i per i cantanti vale lo stesso: devono parlare, devono recitare velocemente, quasi senza sosta, e devono cantare e parlare a un tono molto alto. Sono davvero felice di lavorare con Zubin Mehta, con i tecnici e i macchinisti: sono un team fantastico e credo che il pubblico si divertirà davvero molto. Sarà, credo, un buon biglietto da visita per portare la classica operetta austriaca al Teatro del Maggio."
E a proposito di leggerezza: uno dei modi per preservarla è proprio quello di trattare ruoli e situazioni con un tocco di fantasia e di inventiva del momento. E a questo proposito, i fortunati che assisteranno alla prima di domani avranno una vera e propria piccola chicca: ilo grande pianista Rudolpf Buchbinder si esibirà in un cameo sul palcoscenico del Maggio, come annunciato dal sovrintendente Alexander Pereira poco prima della prova generale. Nella scena dellafesta del principe Orlofsky il grande pianista – soltanto in occasione della prima rappresentazione - suonerà le parafrasi del Pipistrello di Willi Boskovsky: un graditissimo dono al Maggio e al suo pubblico.
Il sovrintendente Pereira ha dichiarato: "Sin dall'inizio della mia sovrintendenza desideravo mettere in scena questo titolo e sono felice di poter portare "un pezzo di Vienna" a Firenze, con un'opera comica, più che un operetta, e con un  "viennese" nato in India come Zubin Mehta e un regista austriaco che viene da vicino Vienna. Inoltre l'atmosfera viennese è rafforzata dall'avere in orchestra la spalla dei Wiener Philharmoniker, Rainer Kuchl. Questa è una musica che fa ridere il cuore e spero che a Firenze anche il pubblico potrà ridere. E mi piace che in un titolo così si possano inserire dei gala. Oltre a Buchbinder, in questo senso penso anche al Nuovo Balletto di Toscana che sempre durante la festa danzerà una polka. Inoltre durante il terzo atto verrà anche rispettata la tradizione di citare composizioni celebri e a questo proposito dunque ci saranno ancora delle altre soprese musicali intonate dal tenore Alex Tsilogiannis  che interpreta Alfred. Da "Di quella pira" a "E Lucean le stelle"  si sentiranno non molte battute di quelle celebri arie e l'orchestra seguirà il canto."
DIE FLEDERMAUS (Il pipistrello)
di Johann Strauss Jr.
Operetta in tre atti
Libretto di Carl Haffner e Richrad Genée
da Le Réveillon di Henri Meilhac e Ludovic Halévy
Musica di Johann Strauss Jr.
Nuova versione del testo per il Teatro del Maggio Musicale Fiorentino e lo Staatstheater am Gärtnerplatz di Josef Ernst Köpplinger
Edizione: Edwin F. Kalmus & Co., Inc., Boca Raton, Florida
Nuovo allestimento in coproduzione con Staatstheater am Gärtnerplatz (München)
—
Maestro concertatore e direttore Zubin Mehta
Regia Josef Ernst Köpplinger
Scene Rainer Sinell
Costumi Alfred Mayerhofer
Luci Valerio Tiberi
Coreografia Karl Alfred Schreiner
Filmato dell'Ouverture Meike Eber & Raphael Kurig
Drammaturgia Fedora Wesseler
—
Gabriel von Eisenstein, Rentier Markus Werba
Rosalinde, seine Frau Olga Bezsmertna
Frank, Gefängnisdirektor Reinhard Mayr
Prinz Orlofsky Marina Viotti
Alfred, sein Gesangslehrer Alex Tsilogiannis
Doktor Falke, Notar Liviu Holender
Doktor Blind, Advokat Daniel Prohaska
Adele, Rosalindes Kammerjungfer Regula Mühlemann
Ida, Adeles Schwester Valentina Stadler
Frosch, Gefängniswärter Robert Meyer / Michael Dangl
Iwan, Kammerdienerd. Prinzen Orlofsky Francesco Grifoni
Coro e Orchestra del Maggio Musicale Fiorentino
Maestro del Coro Lorenzo Fratini
—
Compagnia Nuovo BallettO di ToscanA
Diretta da Cristina Bozzolini
—
Assistenti regista Kilian Bohnensack, Alex Frei
Assistente light designer  Emanuele Agliati
Figuranti speciali Daniela D'Argenio, Mauro Barbiero, Luigi Benassai, Rosario Campisi, Egidio Egidi
—
Allestimento Teatro del Maggio Musicale Fiorentino
—
In lingua originale
Con sopratitoli in italiano e inglese a cura di Prescott Studio, Firenze
 Prezzi: 
Visibilità limitata e ascolto: 15€ - Galleria: 40€ - Palchi B: 80€   Palchi A: 120€
Platea 4: 80€  Platea 3: 100€  Platea 2: 120€  Platea 1: 160€