Due eroi morti per la cronaca
Marie Colvin e Rèmi Ochlik hanno onorato fino in fondo il loro lavoro
E alcuni giornali si sono permessi di definirli, incivilmente,
di Massimo Melani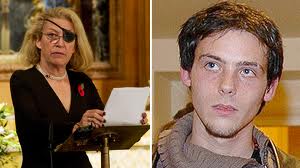 Marie Colvin, Remi Ochlik. Due eroi!
La giornalista americana Marie Colvin, che una volta si definiva "un vigile del fuoco per il mondo", si era costruita la sua importante reputazione come uno dei corrispondenti esteri più coraggiosi della sua generazione.
La sua benda nera sull'occhio sinistro - che aveva dovuto indossare da quando era stata accecata da una scheggia in Sri Lanka nel 2001 – ha reso immediatamente riconoscibile il suo corpo durante le frequenti apparizioni sulle reti via cavo e i broadcast internazionali.
Ore prima della sua morte, avvenuta mercoledì, all'età di 56 anni, nella città assediata di Homs, in Siria, la signora Colvin era stata intervistata da alcune televisioni americane e britanniche.
Parlando con Anderson Cooper della Cnn, aveva descritto l'esperienza "terribile" di guardare da vicino un bambino di due anni morto dopo un bombardamento da parte dell'esercito siriano.
La madre della Colvin, ha invitato i giornalisti nella sua casa di East Norwich, a New York.
Tentando di non dare in un dirotto pianto, Rosemarie Colvin, ha parlato della vita di sua figlia in maniera, definirei stoica, utilizzando tutta la razionalità e la ragione rimastele per comprendere e dare una spiegazione a questa tragedia personale.
Tornando all'intervista con la Cnn, quando Cooper le aveva chiesto in merito alla correttezza di pubblicare certi immagini così crude e devastanti della guerra, lei aveva risposto affermando che "i media devono diffondere queste storie dalle zone di guerra, devono mostrare le bassezze di certe azioni". "Quel bambino," aveva continuato, "probabilmente aiuterà sempre più persone a pensare che cosa sta succedendo e perché non c'è nessuno a fermare questo continuo omicidio che sta avvenendo ogni giorno a Homs."
La Colvin copriva l'insurrezione armata, in corso in Siria, per il giornale Sunday Times of London, lo stesso che ne aveva annunciato la morte.
Lei è deceduta insieme ad un fotografo francese, Rémi Ochlik, di 28 anni, a causa di un bombardamento che l'editore del Sunday Times, John Witherow, ha descritto come "una caduta di bombe devastatrice da parte dell'esercito Siriano".
Almeno altri due giornalisti sono stati feriti durante l'attacco, che ha colpito un improvvisato ufficio di mezzi di informazione .
La notizia è arrivata a meno di una settimana dalla morte di Anthony Shadid, un ex corrispondente del Washington Post, perito -a detta del governo della Siria- per un attacco d'asma; un' esecuzione premeditata per il New York Times.
Almeno altri cinque giornalisti sono stati assassinati -in questo paese- dal mese di novembre, secondo il Committee to Protect Journalists , un'organizzazione no-profit che promuove la libertà di stampa.
La giornalista viveva a New York ed era stata profondamente influenzata da uno stile di scrittura appreso alla Yale University, quello di John Hersey, autore di un racconto, pietra miliare di riferimento, del bombardamento atomico di Hiroshima, nel 1945, in Giappone. I suoi testi, insieme a quelli della corrispondente di guerra Martha Gellhorn, l' avevano attirata verso il giornalismo.
Nei suoi 26 anni di carriera, con il Sunday Times, la Colvin era stata l'occhio e la mente del giornale in moltissime zone di conflitto e in ben tre continenti. Aveva evitato diverse conferenze stampa e più volte aveva rischiato la vita per non esprimersi su queste guerre così da evitare ritorsioni sulla gente ordinaria, in particolare donne e bambini di quei luoghi.
Nel 1999, era stata uno dei tre giornalisti - tutte donne - a rimanere in Timor Est (Asia Sud-Orientale) per aiutare più di 1.000 profughi rifugiati in un avamposto delle Nazioni Unite sottoposto ad attacchi delle milizie governative.
Degli osservatori avevano accreditato i suoi servizi come strumenti che avevano salvato molti di questi rifugiati. Le Nazioni Unite, in seguito, avevano deciso di rimuovere dal luogo i loro tutori della pace, ma i rapporti della Colvin fecero desistere l' U.N. da quella presa di posizione, in quanto "la situazione di Timor Est era politicamente insostenibile".
"Crateri. Case bruciate. Corpi mutilati. Donne che piangono i figli e i mariti. Gli uomini per le loro mogli, madri, bambini ", dirà nel 2010 a Londra in un tributo ai giornalisti uccisi in missione. "La nostra funzione importante è quella di segnalare questi orrori causati dalla guerra, con precisione e senza pregiudizi. E non deve assolutamente trasformarsi in un film horror, perché di esso ce ne dimentichiamo appena compare la scritta the end, ma in certi posti questa dicitura non spunta mai!"
Lei non aveva perso la sua energia né la sua volontà di ferro, per testimoniare che, a prescindere dai costi, le guerre e le loro conseguenze cadevano ogni volta esclusivamente sulle popolazioni civili. Marie Colvin era sempre in prima linea. La sua specialità era quella di andare nei posti più impossibili, più pericolosi, si trovava a fianco dei civili intrappolati con le bombe. Dalla Cecenia all'Iraq, dall'Afghanistan alla Libia, era sempre tra i primi ad arrivare, e l'ultima ad andarsene.
Marie Colvin e Remi Ochlik non sono vittime. Sapevano i rischi a cui andavano incontro, e la decisione di rimanere a Homs, assediata e bombardata, era venuta esclusivamente dai loro propositi.
Non erano teste calde come qualche giornale, amante delle guerre, aveva tenuto a puntualizzare il giorno stesso della loro morte.
Perché non si riflette in questi luoghi di disperazione, perché non si racconta la realtà di una guerra senza dividerne i pericoli con quelli che la subiscono o che la fanno, perché infine questi rischi assunti sono la dignità di un mestiere che altrimenti sarebbe solamente del voyeurismo.
Rémi Ochlik e Marie sono morti avendo vissuto fino alla fine il lavoro che amavano, e che hanno esercitato con passione.
Una volta si definiva "morte eroica".